Laghi di Spluga are located in the homonymous valley of Spluga, 2160 m. Beautiful hike in a lonely place. Little marked, considerable elevation gain, only for experts.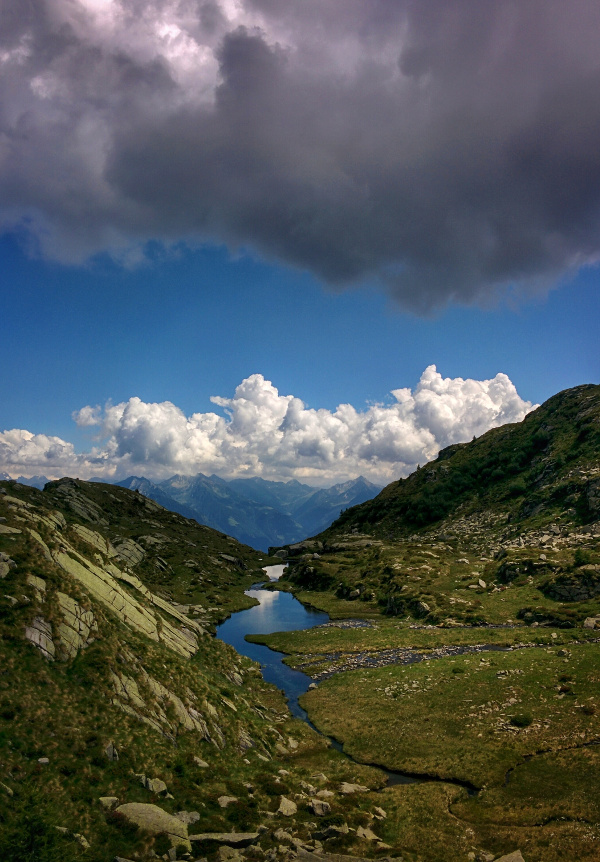 Shortly:
Elevation gain: 1500 m.
Hiking time: 4-5 hours
Difficulty: EE
Elevation Lakes: 2160 m.
Trail: Marked by white and red signs, n° 22. Not always very clear, especially in the upper part of the valley.
Warning:
Trekking is an inherently dangerous activity. The hike here described can be a dangerous activity if faced without the right preparation. Mountain conditions can be very dramatically from one season to the next. Always seek local advice on current conditions, check the weather and don't take anything for granted.

The author accepts no liability whatsoever for any loss, injury or inconvenience resulting from the use of this blog.
Starting point:
Cevo, a village in the municipality of Civo. Small parking lots scattered.
Trail description:
From the village of Cevo, walk toward the hydroelectric power station, cross a bridge and climb steeply the long trail through a deep forest crossing a first group of lodges.
Continue climbing the steep trail and crossing nearby the second group of lodges (in ruins).
Up to this point the trail is still visible for the passage of the animals who go over the mountain pastures. Continue climbing through a forest more and more open but with a not very clear trail, until you'll reach the upper part of the valley nearby a big lodge.
From here the trail is lost among the tall grass but pointing up you can easily climb until you'll reach a small river, around 2000 m. of elevation.
Cross the river at the ford and in 30 minutes you'll reach the first group of lakes. Continue climbing and you'll reach the median lakes (those in the picture) and soon after the main lake, 2160 m.
Wild and lonely place.
Descent:
Along the same trail.
Connected trail:
From Laghi di Spluga you can cross to Colino Pass and descend toward Poira di Civo.
A very long but outstanding hike without shelters or refuges along the trail and on the summit.
Other:
Recommended Map: Kompass n°92
More hiking Costiera dei Cech

Sere