I thought of vegan shortcrust pastry tartlets with jam as an option to the classic tartlet.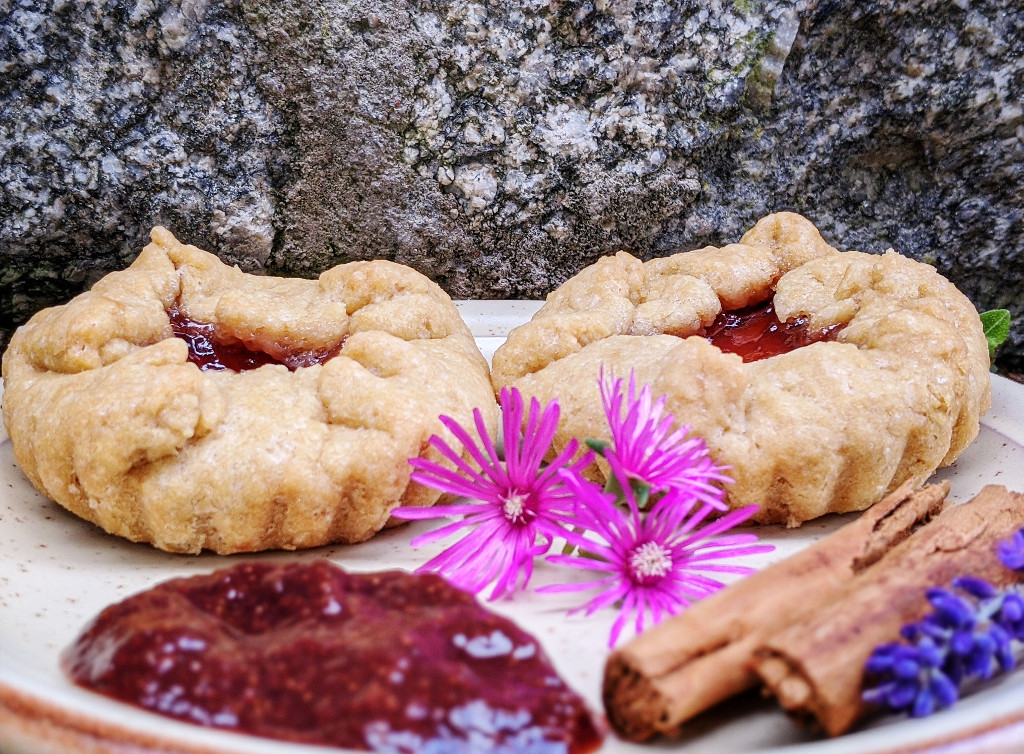 "The first duty and right of every person as soon as he wakes up should be to eat a vegan shortcrust pastry tartlet with jam."
We decided to share the recipes of the vegan cakes that we offer every morning to the B&B guests. This is the first recipe that we introduce in this blog, the others you'll find here: Vegan sweet recipes for breakfast.
Vegan shortcrust pastry tartlets with jam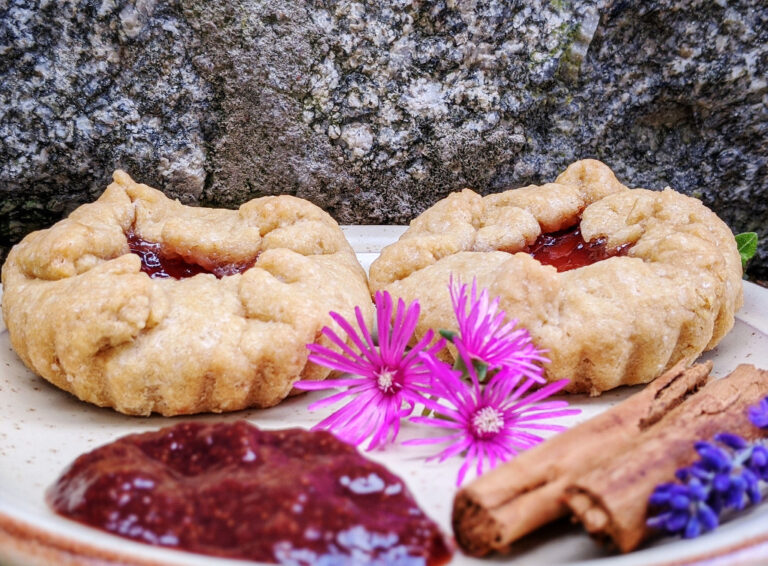 I thought of the vegan shortcrust pastry tartlets with jam as an option to the classic tartlets, they are handy, you'll take less time to make them and in my opinion they arouse sympathy.
Equipment
6 mini molds to tartlets

Plastic wrap
Ingredients
175

g

All-purpose flour

62

g

Brown sugar

1

pinch

Fine salt

45

g

Water

25

g

Sunflower oil

25

g

Olive oil

extra virgin

1

tbsp

Apple cider vinegar

5

g

Cream of tartar

6

tsp

Strawberry jam
Instructions
To a large bowl, add the dry ingredients: the flour, the sugar and the pinch of fine salt. Mix well. Set aside. To a separate bowl add the liquid ingredients: the water, the sunflower oil, the extra virgin olive oil. Mix well.

Take a glass, add the apple cider vinegar, the baking powder, mix and quickly pour over the liquid ingredients.

Now combine the dry ingredients to liquid ones and mix well, before using a spoon then by hands until getting a soft dough. Transfer the dough onto a lightly floured surface and assemble into a ball.

Cover the dough with the plastic wrap and place in the refrigerator for 30 min to stiffen.

Using molds of choice, line each with some oil and flour ((this will help to remove them). Divide the dough into 6 portions of the same size and form into balls. Roll out, onto a floured board, each portion of dough with a rolling pin giving it a circular and flat shape larger then the molds and place each portion into the mold.

Fill with a teaspoon of jam and close the edges at will.

Bake in a preheated oven on 180'C.for 30-35 minutes. Set aside to cool down.
Notes
You can make it easier to roll out the shortcrust pastry by placing the dough between two sheets of baking paper.
Serena