Hiking to Rifugio la Casermetta on the Colmen. Easy and short stroll, start from Dazio, the trail follows a dirt road into the forest (closed to cars), also fits for mtb. The refuge is located nearby the top of the mountain and it's accessible all year round.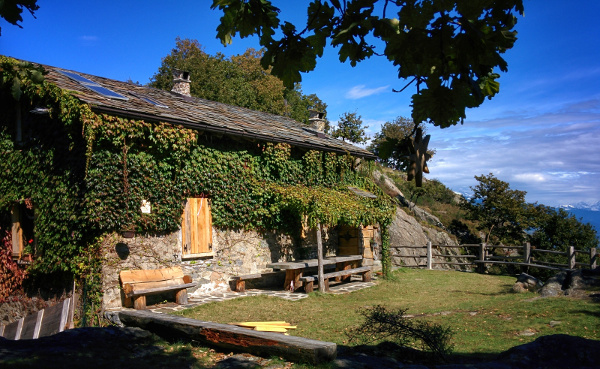 Shortly:
Elevation gain: 353 m.
Hiking time: 1 hour
Difficulty: E
Elevation: 921 m.
Trail: n. 26, not many signs
Warning:
Trekking is an inherently dangerous activity. The hike here described can be a dangerous activity if faced without the right preparation. Mountain conditions can be very dramatically from one season to the next. Always seek local advice on current conditions, check the weather and don't take anything for granted.

The author accepts no liability whatsoever for any loss, injury or inconvenience resulting from the use of this blog.
Starting point:
Dazio, that you reach from Morbegno following the signs road to Costiera dei Cech (Dazio, Civo). There is a parking area near the football field.
Trail description:
From the football field follow the road to the cemetery of Dazio, then turn right. Follow the road that crosses some lands for pasture and after enters the forest. From here the trail begins to climb leading to the top of Colmen and before long descends reaching the Rifugio la Casermetta.
Amazing view.
This hike is the most easy and direct. There are many others hikes to the Colmen with different starting points. The hiking through the West Ridge that leads to the Rifugio la Casermetta is another alternative hike to climb or to descend this fantastic mountain.
Descent:
Along the same trail.
Short history of Colmen and refuge:
This mountain, the Colmen (or Culmine di Dazio), has survived the erosion of the glaciers that flowed down from the Val Masino and the high Valtellina. It's easily recognized by its central position in the valley and for its typical rounded shape due to erosion of the glaciers.
The refuge la Casermetta, located on the plain nearby the summit, was build during the first world war and was also used during the second world war due to its strategic location at the center of the lower Valtellina. After a long period of desertion, the building was renovated in recent years and used as a refuge.
More:
Recommended Map: Kompass n°92
Info and contacts: Facebook Rifugio La Casermetta
More hiking Costiera dei Cech

Sere