Rifugio Alpe Granda is located in the homonymous mountain pasture over Ardenno, elevation 1680 m. You can reach the refuge starting from different places. This hike follows the trail which starts from Valbione place, in Val Masino.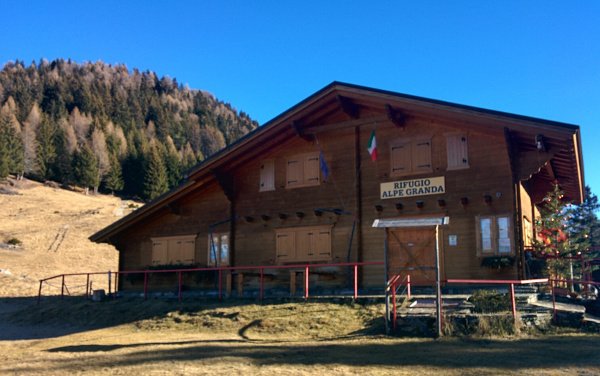 Shortly:
Elevation gain: 528 m.
Hiking time: 2 hours
Difficulty: Easy
Elevation: 1680 m.
Trail: n° 19
Warning:
Trekking is an inherently dangerous activity. The hike here described can be a dangerous activity if faced without the right preparation. Mountain conditions can be very dramatically from one season to the next. Always seek local advice on current conditions, check the weather and don't take anything for granted.

The author accepts no liability whatsoever for any loss, injury or inconvenience resulting from the use of this blog.
Starting point:
Valbione 1234 m., that you reach driving the road that from Filorera, in Val Masino, leads to Preda Rossa.
Park your car just before the bridge on the right. Continue straight, walking to the paved road. The trail starts after 5 minutes on the right.
Warning: the road leading to Preda Rossa is subject to a charge, but if you park before the bridge, as shown, you don't need to buy a ticket.
Trail description:
Walk to the paved road until you'll find the sign on the right. Climb the traverse on the right. At 1492 m. the trail comes out of the woods near the huts Taiada.
This is an excellent viewpoint over Val Masino.
Continue to a well marked trail heading east and in a short time you reach Alpe Granda and the Rifugio.
Descent:
Along the same trail. But some beautiful crossing are possible climbing to Alpe Scermendone and descending to Preda Rossa parking area.
Connected trail:
Read about the descend. Soon the description of the hike.
More:
For info on opening times visit the Rifugio Alpe Granda website
Recommended Map: Kompass n°92
More hiking Val Masino

Sere