The hike up to Passo Colino on the Costiera dei Cech starts from Poira (of Civo). It's a long and beautiful walk in a wild and rarely visited place. Only for expert!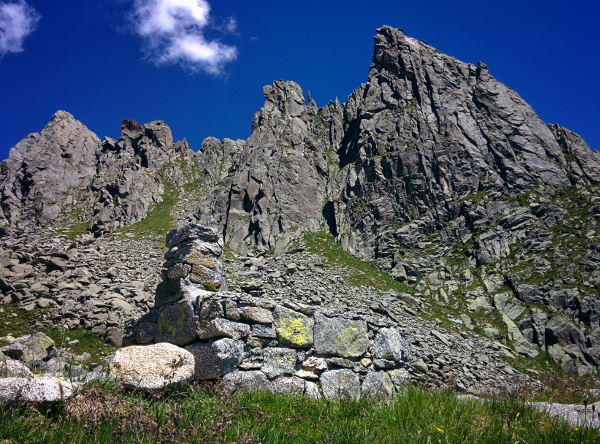 Shortly:
Elevation gain: about 1500 m.
Hiking time: 4/5 hours
Difficulty: Moderate
Max Elevation: 2630 m.
Trail: marked with white and red signs, not always visible
Warning:
Trekking is an inherently dangerous activity. The hike here described can be a dangerous activity if faced without the right preparation. Mountain conditions can be very dramatically from one season to the next. Always seek local advice on current conditions, check the weather and don't take anything for granted.

The author accepts no liability whatsoever for any loss, injury or inconvenience resulting from the use of this blog.
Starting point:
Drive the road that from Morbegno leads to Poira of Civo, passing first to the villages of Dazio and Serone. When you arrive at the crossroads of Chempo's village, turn left, after a few meters you'll see on the right the B&B Costiera dei Cech ;-), continue straight (3 km) until the end of the road. Good parking area.
Trail description:
From the parking area follow the signs to Ledino (you have the football field on your left) and walk on the dirt road that leads to the holiday farm (read Agriturismo) "Cascina da Piero" (30 minutes). Follow the signs to Pesc that you'll reach climbing a beautiful and silent forest. When you arrive at dirt road (firebreak of Costiera dei Cech) continue climbing in the forest. After this first steep part, the trail levels out.
From Pesc trying to locate the path (not clear at beginning) that in a steep and panoramic climb leads to Baita del Colino (1937 m.). From Baita del Colino the trail continues on the right towards the direction of Torre Bering (or Corno del Colino) and reaches a flat section close to a fountain. Now the signs are good! Take the left and in a slight climb you'll reach the panoramic Passo Colino (2630 m.).
Descent:
Along the same trail. It's possible descend one hundred or so meters to the Valle dei Ratti and locate the path leading to a second pass: Passo Visogno (2574 m.). From here you can return to Poira passing to Bivacco Bottani. The path is obvious and well marked.
Other:
Recommended Map: Kompass n°92. Be careful, the trail is not properly indicated!
More hiking Costiera dei Cech
Sere