A fairly easy stroll with a spectacular overlook of lower Valtellina, Val Masino and Costiera dei Cech.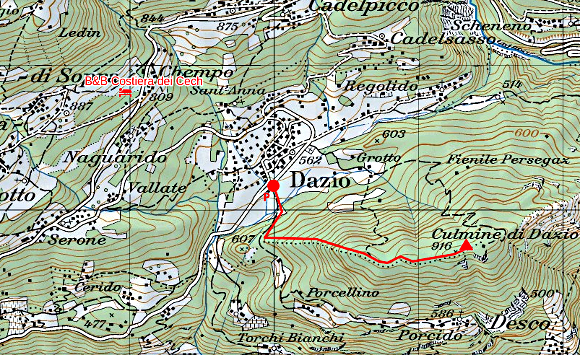 Shortly:
Elevation gain: 400 m.
Hiking time: 1 hour
Difficulty: EE
Elevation: 921 m.
Trail: well marked
Warning:
Trekking is an inherently dangerous activity. The hike here described can be a dangerous activity if faced without the right preparation. Mountain conditions can be very dramatically from one season to the next. Always seek local advice on current conditions, check the weather and don't take anything for granted.

The author accepts no liability whatsoever for any loss, injury or inconvenience resulting from the use of this blog.
Starting point:
Dazio, that you reach from Morbegno following the signs road to Costiera dei Cech (Dazio, Civo). There is a parking area near the football field.
Trail description:
From the football field locate the sign indicating the trail and follow the easy dirt road that enters the forest.
After a few turns, on the left , there is the sign to Culmine di Dazio, Cresta Ovest (west ridge).
Follow the well marked trail that climbs gently up.
The trail leads through a short section equipped with a steel rope and climbs steeply up. After this short passage the trail continues climbing gently to the forest. Before long, the trail reaches a flat area with a sign toward Legunc that you reach in a few minutes.
The Legunc is a small lake, it was formed in a hollow of the Culmine (or Colmen) summit area, and it's populated by frogs and salamanders. It's a gem that no one would expect nearby a summit.
The trail continues keeping the right bank of the lake and in 15/20 minutes leads to the Culmine (or Colmen) summit, passing before near to a tiny and pretty refuge: Rifugio La Casermetta, Colmen.
From the Culmine (or Colmen) summit the landscape is amazing, it offers a spectacular overlook of the whole lower Valtellina. To the North you can recognize many of the villages that make up the Costiera dei Cech and Val Masino. To the South the Val Tartano and Val Gerola appear very close.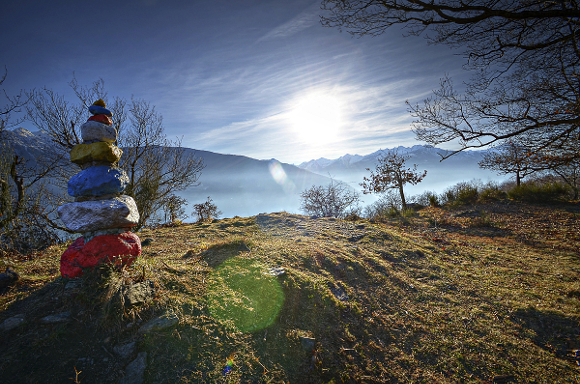 Descent:
Along the same trail or along the dirt road that descends steadily toward Dazio.
More:
Recommended Map: Kompass n°92
Info and contacts: Facebook Rifugio La Casermetta
More hiking Costiera dei Cech
Sere