The hike to the Pizzo Bello, starting from Preda Rossa, offers fantastic views in all directions and the trail is well marked.
This post is about the hike to the Pizzo Bello with start from Preda Rossa in Val Masino even if the summit is often reached starting from Rifugio Marinella in Prato Maslino, climbing up from Berbenno di Valtellina.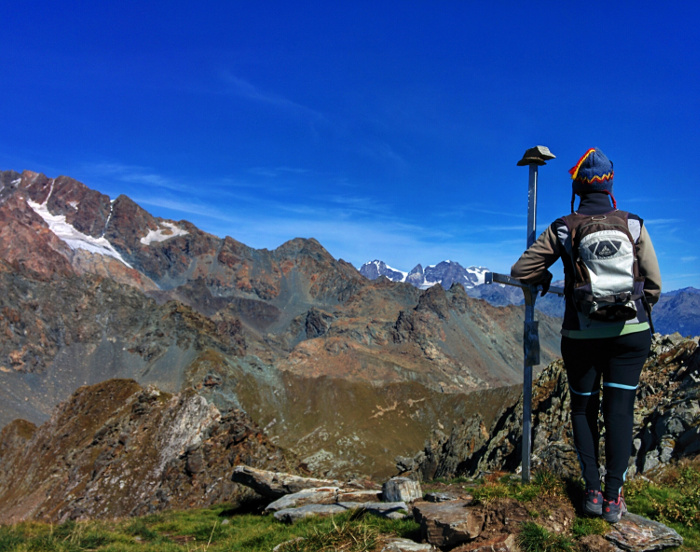 Shortly:
Elevation gain: 843 m.
Hiking time:4 hours
Difficulty: EE
Max elevation: Pizzo Bello 2743 m.
Trail: marked by white and red signs
Warning:
Trekking is an inherently dangerous activity. The hike here described can be a dangerous activity if faced without the right preparation. Mountain conditions can be very dramatically from one season to the next. Always seek local advice on current conditions, check the weather and don't take anything for granted.

The author accepts no liability whatsoever for any loss, injury or inconvenience resulting from the use of this blog.
Starting point:
Preda Rossa parking area, reachable through the paved road from Filorera in Val Masino. The road is accessible only after have bought the ticket pass in Val Masino.
Warning: Road access rules change every year. Get the information in advance!
Trail description:
From the parking area of Preda Rossa retrace your steps, for a short distance, along the paved road you arrived trying to locate on the left the trail that climbs towards to Val Terzana, Passo di Scermendone and San Quirico.
Leaving out the indications to Scermedone Pass, follow the trail that climbs gently up along a ridge of grass leading the small San Quirico Church, 2131 m.

From here you have two possibilities to reaching the summit of Pizzo Bello:

Follow the ridge of grass along a panoramic trail that leads before to the Cima Vignone, 2608 m. and after a short descent reaches the short and exposed final ridge of the Pizzo Bello.
From San Quirico take the trail to the southern – southern eastern side that leads to the area of Prato Maslino.The trail is very long and with some descent sections. After 1 hour you arrive at the junction with the main trail that leads to the Pizzo Bello through a clear path and the steep and exposed final ridge.
Spectacular views of Monte Disgrazia and Bernina
Descent:
along one of the two possibilities described above.
Other:
Suggested Map: Kompass n°93
More hiking Val Masino
Sere