The Anna trail in Costiera dei Cech is an easy and short hike, accessible even the most inexperienced walker. It's a magnificent hike no hiking enthusiast should miss, even beginners.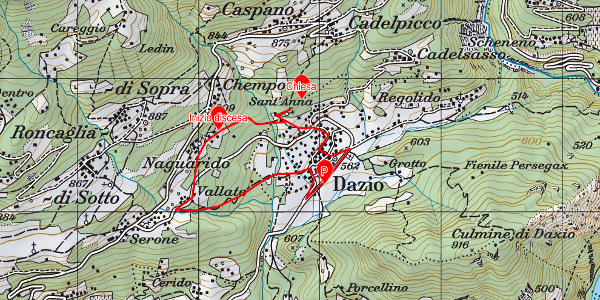 Shortly:
Elevation gain: about 200 m.
Hiking time: 2 hours, stop and visit to the surrounding areas included
Difficulty: E
Trail: without number and not well marked but easy to find your bearings
Warning:
Trekking is an inherently dangerous activity. The hike here described can be a dangerous activity if faced without the right preparation. Mountain conditions can be very dramatically from one season to the next. Always seek local advice on current conditions, check the weather and don't take anything for granted.

The author accepts no liability whatsoever for any loss, injury or inconvenience resulting from the use of this blog.
Starting point:
Dazio. From Morbegno follow the sign road to Costiera dei Cech, Dazio, Civo. You can park your car near the football field.
Trail description:
From the parking area walk toward the village of Dazio. Pass the Coppa Hotel and continue walking toward the main road where you can look a sign to Ca' del Sasso.
Trying to locate a path in the grass that quickly leads to the paved road, following it leads to the chapel of Saint Anna.
Retrace your steps and follow a trail on the right crossing a small and deserted village.
Cross the footbridge and continue walking on a paved road that leads to the holiday farm (read "Agriturismo") "La Pedruscia".
When the paved road finishes take left and follow the trail which leads gently to Ca' Busnarda, a small place in Naguarido village.
From here the trail descends toward Vallate and crosses the main paved road (trying to locate the sign with the directions of Anna trail).
Continue down the well marked trail and keeping left you'll come back to Dazio at the parking area.
Connected trail:
All the villages of Costiera dei Cech are connected by a network of antique paths, connected in turn with the Anna trail.
Other:
Recommended Map: Kompass 92, only for an overview of the places and of the path.
Hiking map of Costiera dei Cech published by Consorzio Turistico Porte di Valtellina.
The map in the post has been modified by Map Geo Svizzera.
Learn more about visited places on Paesi di Valtellina, Percorso Anna.
More hiking Costiera dei Cech
Sere