A short and easy hike for those who know the area, perfect in the middle seasons. Few signs.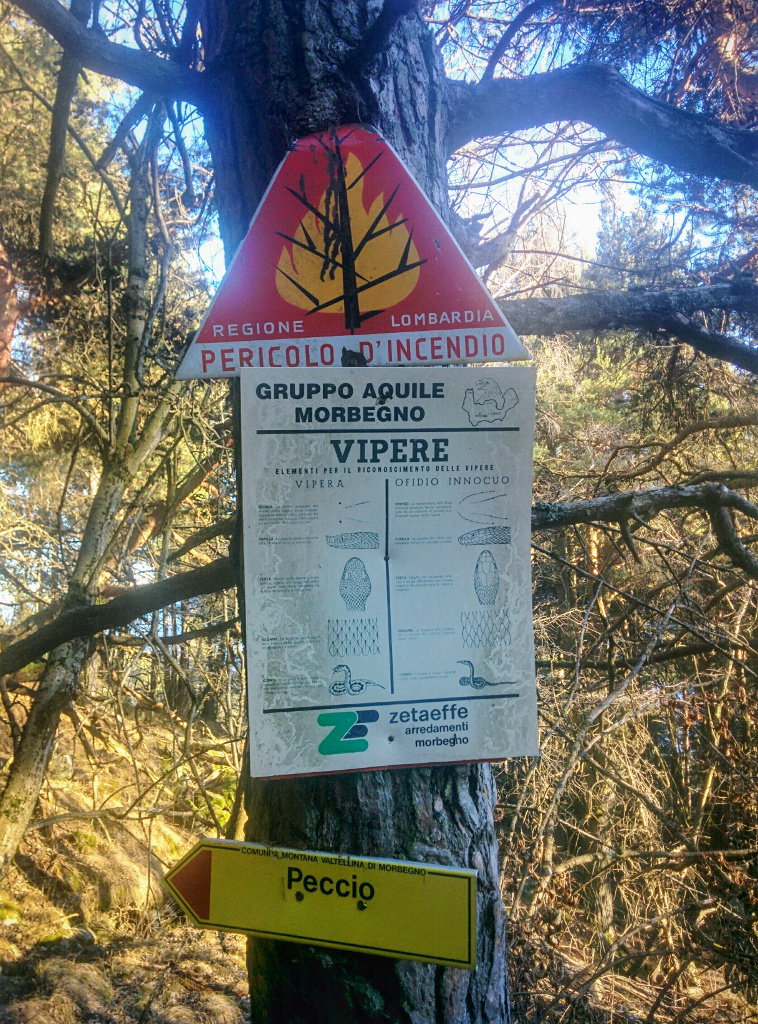 Shortly:
Elevation gain: about 400 m.
Hiking time: 2 hours
Difficulty: E
Max elevation: 1400 m.
Trail: not clear with few signs, easy if you know the area
Warning:
Trekking is an inherently dangerous activity. The hike here described can be a dangerous activity if faced without the right preparation. Mountain conditions can be very dramatically from one season to the next. Always seek local advice on current conditions, check the weather and don't take anything for granted.

The author accepts no liability whatsoever for any loss, injury or inconvenience resulting from the use of this blog.
Starting point:
Poira di Civo. Drive the road that from Morbegno leads to Poira di Civo, passing first the villages of Dazio and Serone.
At the crossroad of Chempo's village turn left, after a few meters you'll see on the right the B&B Costiera dei Cech, continue straight until the end of the road. Good parking area.
Trail description:
From the parking area go to the left of the football field and follow the indications to the Bivacco Bottani.

The trail starts between isolated houses, then climbs through pine forest. Follow the trail until a small stream (about 30 minutes). The trail to the Bivacco Bottani continues on the left, while the one leading to Ledino is on the right.
This junction is indicated with the sign that you can see at the beginning of this post and the direction to follow is: Peccio.

Walk to the northern-astern side of the gentle slope with poor traces of passage. The trail passes some ancient grazing lands and some deserted shepherd's cottages until reaching some renovated cottages. Continue for a while until you reach the unpaved road to Ledino, close to the Agriturismo La Cascina del Piero, 1 hour.
Descent:
Go down the unpaved road and at the first turn you can continue to the right or left and in about 30 minutes you'll reach the parking area of Poira.
Other:
The word Peccio is credited to the locality of Pesh, a grazing land located in the upper part of the Costiera dei Cech, which this hike doesn't reach.
Recommended Map: Kompass n°92. Warning! This hike is not in the Map!
Other hiking Costiera dei Cech
Serena.