Who were we? Serena and Alessandro.
Whoops…maybe you were looking for "who we are" and not "who we were"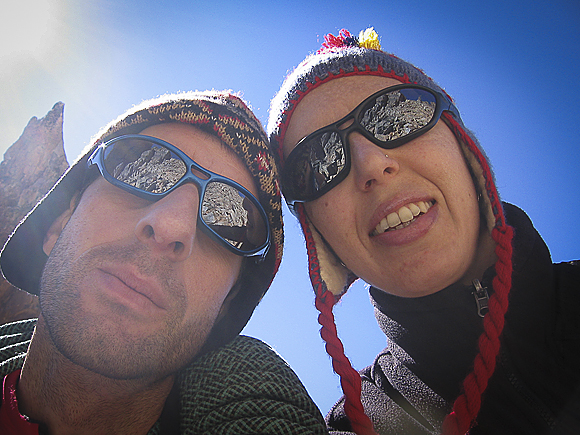 Serena: I was born in Venice and for a lot of years I made the commute in the week-ends to reach mountains. I worked in a accountant office in Venice and I simply waited week-ends to go climbing.
In the last years I tried to travel as much as possible and I visited Finland in a 2 weeks trek, 3 times Patagonia, hiking and climbing, California, just to climb, India and Nepal. I like reading and listening to music. No TV and to be consistent, no antenna on the house. I'm vegan and I love donkeys and goats, two animals in my opinion undervalued and not fully understood. When it's possible I run to Mello's Valley to climb, but I also love walking through the woods and villages of Costiera dei Cech.
The idea of B&B was born many years ago (about 20), then a bit of fear and the difficulty to care the project in the evening postponed everything to 2013.
After many difficulties, in Agoust 2013, I managed to start the B&B Costiera dei Cech, and to join up my passion for the mountains with a job in the mountains.
---
Alessandro: I'm a former employee of a car wash, a former salesman, former driver…but always a fan of the web. As Serena and with Serena I spent all my free time to wear out my fingers and not only, on faces and rocks around the Alps. I waited week-end to go climbing, but often I went there during the week!!!
I did the same travels of Serena, of course. I'm vegan and moderately interested in cooking. I talk and play with all kinds of animals, from insects to… I don't make distinction. I like reading and I'm very interested to code HTML and PHP.
The main theme is still climbing and mountain and I do everything to stay in this place.